Current Beauty Promotion Included With Purchase:
30 Tooth Stainless Thinner and Black Aluminum Shark Fin Razor with Feather Brand Blade.
Non-Swivel & Swivel promotional items are now available to match your purchased shear.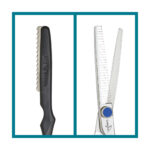 Promotional items will be automatically added to the cart at checkout
Made from the finest 440-A steel from the HITACHI/AICHI factory in Japan, you can expect highly sharp convex edges. GREAT for all haircutting techniques, including slide and point cutting. These shears will provide smooth, effortless cuts and are incredibly durable. They have a Rockwell hardness of 57-58.
Includes: (Retail Value $89.95)
FREE Shark Fin® Case
Shear Fit® Finger Fitting System
Polishing Cloth
Shark Fin® Lubricating Oil Pen
All Shark Fin Shears come with an unconditional lifetime warranty

great for dry, wet & slide cutting