Current Beauty Promotion Included With Purchase:
30 Tooth Stainless Thinner, 40 Tooth Stainless Blender, and a Black Aluminum Shark Fin Razor with Feather Brand Blade.
Non-Swivel & Swivel promotional items are now available to match your purchased shear.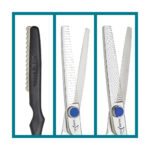 Promotional items will be automatically added to the cart at checkout
100% HANDMADE Our craftsman trained in Japan only uses the finest HITACHI/AICHI/YAMAMURA ATS-314 Japanese steel to ensure unmatched razor-sharp convex edges.
They are 30% lighter than conventional shears.
The Monarch comes with a ball bearing system in the pivot area and a swivel thumb for effortless movement with crisp clean cuts.
We have added nylon glide strips at the back of the blades for an additional silky smooth feel.
They have a Rockwell hardness of 62-63.
Includes: (Retail Value $89.95)
FREE Shark Fin® Case
Shear Fit® Finger Fitting System
Polishing Cloth
Shark Fin® Lubricating Oil Pen
All Shark Fin Shears come with an unconditional lifetime warranty

great for dry, wet & slide cutting