Current Beauty Promotion Included With Purchase:
30 Tooth Stainless Thinner
40 Tooth Stainless Blender
Black Aluminum Shark Fin Razor with Feather Brand Blade.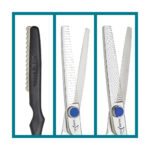 Promotional items will be automatically added to the cart at checkout
(Offers cannot be combined with any other Promotional/Ambassador/Referral Code)
100% HANDMADE Our craftsman trained in Japan only uses the finest HITACHI/AICHI/YAMAMURA ATS-314 Japanese steel to ensure unmatched razor-sharp convex edges.
They are 30% lighter than conventional shears.
The Monarch comes with a ball bearing system in the pivot area and a swivel thumb for effortless movement with crisp clean cuts.
We have added nylon glide strips at the back of the blades for an additional silky smooth feel.
They have a Rockwell hardness of 62-63.
Includes: (Retail Value $89.95)
FREE Shark Fin® Case
Shear Fit® Finger Fitting System
Polishing Cloth
Shark Fin® Lubricating Oil Pen
All Shark Fin Shears come with an unconditional lifetime warranty

great for dry, wet & slide cutting